HISTORY OF KOTTAKKUNNU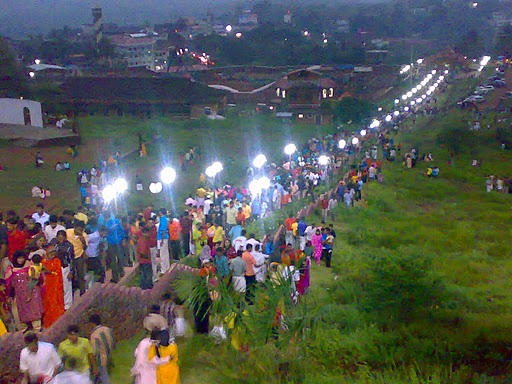 Kottakkunnu hill garden. Visit here. This is very beautiful nice garden on the hill. It is 300 meters away from Malappuram town. There is a beautiful Town hall, it called as Variamkunnath town hall at the foothill of Kottakkunnu on Manjeri road at Malappuram town (Malappuram town is called as locally KUNNUMMAL and UP HILL.

Kottakkunnu (explain this word in english THE MOUNT WITH THE FORT) is the highest point in Malappuram town. Actually, there is no fort there. It was the campsite of British military when it reached there in 1921 in large numbers to quell an uprising of Muslim peasants. The British authority used it as a firing range and many Moppila (Muslim) rebel was killed here by them.

After freedom of India it is used Indian militory as firing range. So it is a great historical signficance named as Kottakkunnu grounds. On evening large numbers of people gather here to see the sunset. There had a Jubily park for childrens is made by the DTPC and a helipad also at the top of the hill. Now this ground and valley are changed as Kottakkunnu hill garden.
If any of you have kottakkunnu history that you would like to share with us, email me and I'll post them here.